Join Us In Giving Back This Holiday Season
Posted by Tammy Crawford on Monday, November 29, 2021 at 1:40 PM
By Tammy Crawford / November 29, 2021
Comment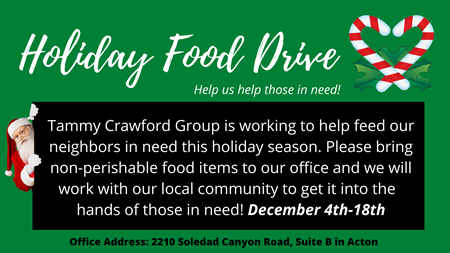 The holidays are fast approaching and our team at Tammy Crawford Group understands the importance of giving back to our community and spending time with friends and neighbors. There are many ways to give back, one of which is helping to feed the hungry. You could volunteer at a soup kitchen or food bank, and also donate food. There are many opportunities to do so around the area.
We are hosting an Acton food drive in our office, located at 2210 Soledad Canyon Rd. Suite B in Acton. Stop by and bring non-perishable food items anytime during business hours between December 4th and December 18th. We enjoy chatting with everyone who comes in to bring food and we will work with our local community to get the food into the hands of those who need it.
Food Donations Welcomed by the Tammy Crawford Group in Acton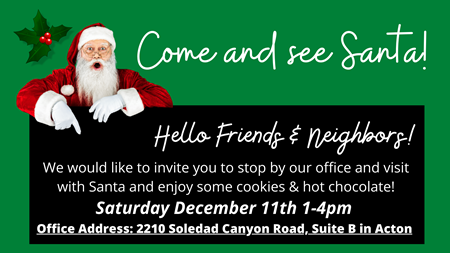 When thinking about what food to donate, many food banks suggest focusing on minimally processed foods that are low in salt and sugar and high in protein, healthy fats, and whole grains. These items will help those in need to create healthy meals. Some suggestions include canned and dry beans, rolled oats, nut butters, low-sodium soups, shelf stable milk and milk substitutes, olive or canola oil, canned tuna in water, low-sodium canned vegetables, brown rice, quinoa, and canned fruit in juice.
In addition to our Acton food drive, we will also be hosting Santa in our office. All of our past and present clients, friends, and neighbors are invited to come visit with Santa in Acton. We truly enjoy this event, as it gives us the opportunity to catch up with old friends and make new ones in the community. This event will take place on Saturday, December 11th, 2021 from 1-4 p.m. Feel free to bring donations for our food drive as well as your list for Santa. Guests are also invited to enjoy some cookies and hot chocolate.