Tammy Crawford was honest and made everything go quick even with a buyer falling out! Thank you Tammy for making sure we got out of California control!
masirahbrent -Sold a Single Family home in Lancaster, CA
Tammy is simply amazing!!! She kept us informed updated thought out the process of purchasing our home. Never had to worry about the process and most importantly she was always pleasant and will to go that extra mile. We will forever love Tammy!! Tammy thank you for our beautiful home!!
George Lozano -Bought a Single Family home in Palmdale, CA
Tammy sold our home when other real estate agents couldn't. Why? She is local to Acton and knows the market. She was easy to work with and made sure we were happy with what was happening. She did not push us to do something we did not want to do. We had a well and open land, which meant a lot of questions. Tammy was able to make sure prospective buyers understood what our home offered–a great well, privacy, great neighbors, and the value of the horse arena and barn. In the end, we got top dollar for our home and felt like Tammy had our back from start to finish. Honestly, in more rural communities, personal relationships matter and Tammy proved to us why picking someone who will be there with you the whole way, is the most important decision you can make. I highly recommend Tammy. She'll sell your house without any drama. She'll help you find your dream home that will make you happy.Verified by RateMyAgent
Carlos Phoenix, Sold a home in Acton, CA
Tammy was absolutely wonderful to work with! She took time to understand details of our home and was very transparent throughout the process! She followed up with us timely and her customer service and attention to detail was flawless. We were so lucky to have her by our side during the sale of our first home!
Krystle Carr Sold a home in Acton, CA
There is not enough room here to lavish all the accolades on Tammy that I would like to. She is the best! We had a very difficult sale requiring cash-only buyers or funding through a lender with higher-than-average interest rates. Needless to say, many buyers wanted the property but could not meet the financial criteria. Tammy stood by us! After an extended period of time she could have said, "I'm out. This is just too difficult." But she did not. She worked her tail off for us. On top of that, she is an extremely professional and responsible realtor. She returns calls IMMEDIATELY and does everything she can to accommodate the seller's wishes. I've seen her in action with her buyers as well, and can state that she excels in her efforts on their part. We were incredibly fortunate to have had Tammy Crawford as our realtor and couldn't have done it without her. She made our dream of selling and moving to another state possible. If you are considering Tammy to represent you, do NOT think twice. Go with her because she IS the best!
BRAEDEN MARCOTT Sold a home in Acton, CA
We worked with Tammy Crawford in the spring to sell our home and we couldn't have been more pleased. We were very impressed with her knowledge, she always took our calls and answered all of our questions. She worked extra hard as we had multiple offers on our home. She was very professional at all times and It is evident Tammy loves her job and is committed to going above and beyond for her clients. We would absolutely recommend Tammy Crawford for all your real estate needs!
lisaowens90 Sold a Single Family home in Palmdale, CA
Our experience with Tammy was nothing short of amazing. She is on top of EVERYTHING! You have a question, she instantly replies. If she doesn't know the answer, she finds out immediately. We were extremely impressed and had a really smooth escrow. As stressful as a situation like buying a house can be, Tammy made it an enjoyable process. She is one hard working woman, everyone should use her! Thank you Tammy!
hairstylesbynikki Bought a Single Family home in 2020 in Acton, CA
I was looking for my first home and knew nothing. I found Tammy on Zillow and we connected immediately. She was caring, knowledgeable, communicative, kind patient…she was everything. She stuck with us as we navigated the mortgage process thorough a pandemic. She such with us as we got cold feet. Now she's stuck with us as friends for life. She is great and anybody looking for a home would be lucky to work with her.
gbutler86 Bought a Single Family home in Acton, CA
Great experience! It was my wife and I first time buying a house and Tammy stuck with us and found a home that met all of the things that we wanted. Tammy also showed us any house that we personally found on apps/online, very friendly and made our home buying experience fun. If we end up every buying another home or property I will be calling her again. Parker S.
parkershultz, Bought a Single Family home in Littlerock, CA
I've just got to say that I didn't know what to expect when I got into the market for buying a home. I found Tammy on Zillow and she was attentive, kind and understanding beyond measure. I was VERY green and Tammy took me under her wing and educated me. We began just as the pandemic began and Tammy was patient, allowing me to ask her literally 5000 questions or just vent. I'll be recommending her to anybody that asks me.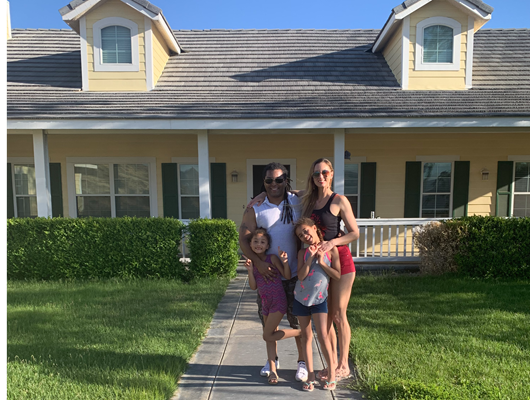 Gregory Butler- Bought a Single Family home in Acton, CA
Tammy is a master in her profession. The sale of our home was my wife's and my 3rd real estate transaction with her. Tammy helped guide us in preparing our home to sell, then used her expert knowledge and professional contacts to effectively price and market our home to reach a wide range of potential buyers. Her judgement of local conditions was outstanding, and she brought us five offers the first week. After entering escrow, I could relax knowing Tammy promptly and accurately takes care of everything required of a seller. Her communications to keep us updated on progress was perfect, even down to the last detail if we had a concern. Tammy was more than willing to go above and beyond her responsibilities to ensure a timely, successful transaction. Overall, my wife and I were extremely pleased. Tammy is professional, personable, an absolute pleasure to work with, and she brought results that were far above our expectations.
parrish ds -Sold a Single Family home in Acton CA
When my husband and I had to sell my mother-in-law's house so she could move into a retirement community we called on Tammy. She was instrumental in all aspects of the sale, from pricing the home so that we achieved multiple offers to the final closing, which had to be coordinated with mom's move into her retirement home. Tammy was there every step of the way and not only garnered a sale above asking price but was an absolute pleasure to work with.
mamagarbs Sold a Single Family home in 2012 in North Hollywood, CA
Tammy is a true professional. She very knowledgeable of the area and keeps her client's needs a priority. She is never one to settle and will never let you settle until you feel a 100% confident about your purchase or sale.
sandraandjose1995 Bought a Multi Family home in 2011 in Lancaster, CA
I have been dealing with Tammy Crawford for a few years now. Her expertise is unsurpassed and she understands exactly want I'm looking for. I have purchased several properties through her. Negotiations were smooth and Tammy has a real TAKE CHARGE approach. She is always on task, friendly, and knows things before I even ask. Thank you Tammy for all your work and kindness. Our relationship is truely treasured...Look forward to more properties. You are TERRIFIC!!
tgizatullin Bought a home in 2011
Tammy is an experienced and knowledgable real estate agent. She will work her hardest to get done everything that needs to be done in a very timely manner. She was very efficient at bargaining with the buyer (whom she also represented) about the little details such as selling price and fixes that needed to be made to the house. I highly recommend her to anyone looking to buy or sell a house!
moto4174 Sold a Single Family home in 2013 in Palmdale, CA
Always available, patience, puts client interest first. I have bought and sold two properties with Tammy and have recommended her to several associates who have been very satisfied with her services. Tammy was very patient when we were looking for our house and always available to our schedule while showing us various properties until we found the house we wanted.
russ ter Bought a Single Family home in 2012 in Palmdale, CA
Tammy works extremely hard to make sure her clients are completely satisfied. She is knowledgeable, friendly, and honest. She's never pushy and responds quickly. I highly recommend using her as your realtor.
user7308006 Bought a Single Family home in 2013 in Palmdale, CA
Tammy Crawford helped us short sell our home in 2012. We were extremely impressed with her knowledge of the law and expertise in the local market. We are in a much better place financially as a result of Tammy's help and we are very happy for it. We highly recommend her. She is a true professional.
Jeff and Traci Mitchell, Sold a Single Family home in 2012 in Lancaster, CA
I have used Tammy's services a couple of times and have been very satisfied. She sold 2 of our homes and she helped us buy a home. I found her to be very knowledgeable and experienced in many different aspects of the real estate market. We always received very prompt response to any questions we had and always had a solution to the issues that came up. Tammy always made sure the process went smoothly.
annettski Sold a Single Family home in 2012 in Acton, CA
I have used Tammy in the past to help my husband and I buy our first home. She made the process painless as possible and it was actually a joy to work with her. We just recently put our house on the market and it has SOLD...of course we went back to Tammy. My husband and I plan to buy a home and we will definitely use Tammy form HomeBased Realty! You want to buy or sell....you know were to go!
user4493094 Sold a Single Family home in 2014 in Lancaster, CA
We have known Tammy Crawford for years. We used her to list our home in Acton where she spared no expense with the best photography and fabulous open houses! This past experience was with rental income and she was always available and worked hard to close the deal. One of her best qualities is how quickly she gets back when you have a question. She may not answer your call every time but will get back to you extremely FAST… You can't go wrong with this gal , plus she has a great smile!
Trudy goris Sold a Condo home in 2014 in Lancaster, CA
I would like to express my sincere appreciation to professional manner, integrity and hard work put forth by Tammy Crawford in selling my home. Throughout the process she always promptly kept me updated, was professional, conscientious, motivated and always had an upbeat positive attitude. She quickly researched the area, determined a strong price and marketing strategy for selling my home. She also provided me with sources to make sure that my home was presented at its best. Tammy was highly supportive, realistic and knowledgeable in making this selling transaction run smoothly and quickly. I cannot thank her enough and appreciated her calm reassurance and expert advice throughout the process. Tammy represents the best in a real estate agent which other agents should strive to achieve. I would without a doubt recommend her services to others looking to sell their home. RG
4lulu Sold a Single Family home in 2014 in Lancaster, CA
Tammy represented my wife and me to find a new home. She listened to our needs and wants, and after finding the one and only home we wanted, stuck with us through a short sale process that took over 3 times longer than expected due to bank action. Tammy is personable, kept us encouraged when we thought the deal might fail, knows who to call and how to get things done when it's time, and responds immediately when needed. Tammy made the deal work, I don't think we would be in this beautiful home if she was not involved. Can't imagine working with any other agent. She will be listing our previous home when it's ready to sell.
parrish ds Bought a Single Family home in 2014 in Acton, CA